By David Figura The Post-Standard September 10, 2014
| | | | |
| --- | --- | --- | --- |
| | (Marlyn Fuess photo) | | |
North Franklin, Conn. – Researchers in Connecticut say if you reduce deer numbers in a residential community you'll reduce the chances of residents coming down with Lyme disease.
The 13-year-study, "The Relationship Between Deer Density, Tick Abundance and Human Cases of Lyme Disease in a Residential Community," was carried out by the Connecticut Department of Energy and Environmental Protection's Wildllife Division in the small communities of Mumford Cove and Groton Long Point. The results of the study were published in the July issue of the Journal of Medical Entomology.
If you want to reduce the number of deer ticks, you have to reduce the number of deer that they dine on during their second year of life, the researchers found.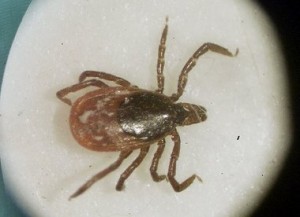 The deer herd in the two communities – which at its peak averaged 80 deer per square mile – was cut down considerably by volunteer hunters using shotguns, compound bows, crossbows and bait on three tracts of public land. Both communities had to eliminate their no-hunting ordinances to allow the hunting.
"Reducing deer density to 5.1 deer per square kilometer resulted in a 76 percent reduction in tick abundance … and 80 percent reduction in resident-reported cases of Lyme disease in the community," the study noted. Continue reading →