November 25, 2013 The Wildlife Society News
By Danica Zupic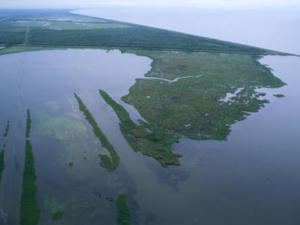 Aerial view of a Louisiana Wetland (Credit: Ryan Hagerty / USFWS )
The most recent report to Congress on the Nation's coastal wetlands was released on November 21, 2013. The U.S. Fish and Wildlife Service (FWS) and National Oceanic and Atmospheric Administration Fisheries Habitat Program (NOAA) updated and expanded data on wetlands in coastal watersheds for conservation planning efforts in Status and Trends of Wetlands in the Coastal Watersheds of the Conterminous United States 2004 to 2009. NOAA and FWS analyzed the status and trends of wetland data in conjunction with principal Federal agencies and funding from the Environmental Protection Agency, and concluded that the U.S. is losing wetlands at a "significant rate".
According to the report wetlands in coastal watersheds (Atlantic, Gulf of Mexico, and Great Lakes specifically) comprise 37.3 percent of the wetlands in the contiguous U.S.s. The major report finding was that the annual rate of wetland loss in these watersheds was 80,160 acres between 2004 and 2009, a 25 percent increase from the 1998 to 2004 rate. A net loss of 360,720 acres (95,000 acres of saltwater wetlands and 265,720 acres of freshwater wetlands) occurred over this time period.
Although this study did not assess wetland conditions, the impacts of continued vegetated wetland loss attributed to human causes in this study are concerning. For wildlife, these losses are of critical importance as coastal wetlands are important habitat for 75% of the Nation's waterfowl and other migratory birds, and nearly 50% of the Nation's endangered and threatened species.