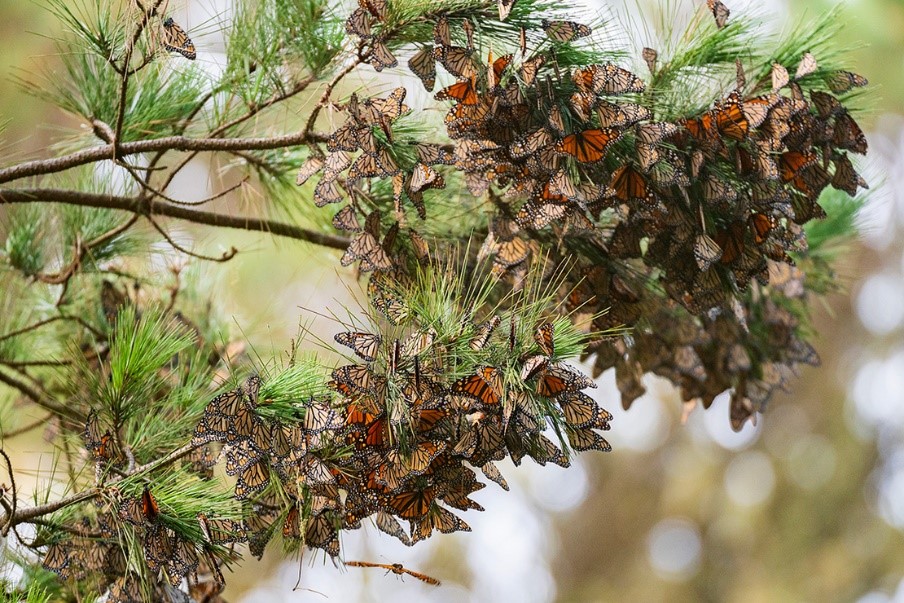 By Michael Doyle | 01/06/2022 01:25 PM EST
Monarch butterflies are having a moment — in court, on Capitol Hill and across the countryside.
Some migrating populations are up from 2020's devastating lows. Congress is kicking in more money. Endangered Species Act legal settlement talks are underway.
And over it all loom the far-flung consequences if the conservation efforts fall short and monarch butterflies end up, after all, requiring federal protections under the ESA.
"Imagine if the monarch is listed," National Wildlife Federation President and CEO Collin O'Mara told a Senate panel in December. "The impact on farms across the country would be massive."
An ESA listing, though, remains both a distinct possibility and, for some environmental groups, a goal.
The population of monarch butterflies in the eastern United States has declined by more than 80 percent over the past 20 years. The western U.S. monarch population has declined by 99 percent since the 1980s.
Still, the news about western monarchs got a little brighter last fall.
Emma Pelton, senior conservation biologist with the Xerces Society for Invertebrate Conservation, told E&E News that while the final count is still being tallied and will be released later this month, they so far are at 200,000-plus monarchs.
In 2020, the monarch population was counted as fewer than 30,000.
On Oct. 16, for instance, over 1,300 monarchs were spotted at the Pacific Grove overwintering site on the California coast. This site did not have a single monarch butterfly during 2020's count.
"In short, this … is a modest uptick in numbers that is worth celebrating," Pelton said. "But the population is still significantly below historic levels."
Citing the decline, the Center for Biological Diversity asked the U.S. District Court for the District of Columbia last year to order the Fish and Wildlife Service to grant the species and nine others protections under the ESA (Greenwire, April 2, 2021).
"Languishing in regulatory limbo without a final listing decision can be a death sentence for these endangered and threatened species," the lawsuit states, adding that "at least 47 species have gone extinct while waiting for protection under the Act."
The lawsuit is now in abeyance while the two sides discuss a possible mediated settlement, with their next court session set for February, according to the most recent legal filing.
A typical settlement would call on the Fish and Wildlife Service to take another look by a certain date. This case may be trickier than others, though, as it involves multiple species, each with its own scientific and, perhaps, political implications.
Listing the butterfly, for instance, would require FWS to designate critical habitat and potentially compel farmers to reduce their application of the milkweed-killing herbicide glyphosate. The use of glyphosate has greatly increased since the introduction of genetically engineered crops that resist the effects of the weedkiller (Greenwire, Feb. 19, 2016).
Every year, monarch butterflies travel more than 2,500 miles from Canada to spend the winter in the pine forests of Mexico's Michoacán region. Deforestation in Mexico and climate change have also reduced the monarch's numbers (Greenwire, Dec. 23, 2015).
"You can't conserve monarch butterflies just from Iowa or North Dakota or Minnesota," former Fish and Wildlife Service Director Dan Ashe told lawmakers last month. "It requires cooperation with Canada and Mexico, in particular."
Ashe, now the president and CEO of the Association of Zoos and Aquariums, added that "if we don't protect the wintering grounds and reserves in Mexico, all the conservation efforts in United States lose meaning."
A provision tucked into the massive infrastructure bill signed by President Biden last year offers some help.
It sets up a five-year program that will provide $10 million in grants to benefit pollinators on roadsides and highway rights of way. Called the Monarch and Pollinator Highway Act, the bill was authored by Rep. Jimmy Panetta (D-Calif.) and Sen. Jeff Merkley (D-Ore.).
Eligible projects include the planting of native plants, as well as the costs of switching to pollinator-friendly practices, such as reducing mowing, especially during key points in the monarch butterfly migration.
Advocates are now pushing for the "Monarch Action, Recovery and Conservation of Habitat Act." It would authorize $12.5 million per year for the next five years to a Western Monarch Butterfly Rescue Fund, and $12.5 million annually for the Western Monarch Butterfly Conservation Plan prepared by the Western Association of Fish and Wildlife Agencies.
"Unfortunately," Panetta said last year, "we are now witnessing the dramatic decline and potential extinction of this magnificent pollinator all across North America."
The Fish and Wildlife Service in 2020 declared that adding the butterfly to the list of threatened and endangered species is "warranted but precluded by work on higher-priority" ESA responsibilities.
The monarch will now be considered a candidate for listing, and its status will be reviewed annually.
FWS reported the eastern population fell from about 384 million in 1996 to 14 million in 2013. The population in 2019 was about 60 million. The western population, based in California, fell from about 1.2 million in 1997 to fewer than 30,000 in 2019.
The agency cites conversion of grasslands to agriculture, widespread use of herbicides, urban development, continued exposure to insecticides and the effects of climate change as the primary threats to the monarch's future.
The availability of milkweed, in particular, is essential to monarch reproduction and survival. Monarchs lay their eggs on milkweed, their sole source of food.
"A majority of the milkweed loss has occurred in agricultural lands, where intensive herbicide usage for weed control has resulted in widespread milkweed eradication," FWS noted.
Officials in 2020 unveiled an ambitious "candidate conservation" agreement with the University of Illinois, Chicago, that "encourages transportation and energy partners to participate in monarch conservation by providing and maintaining habitat" on rights of way and other lands, according to FWS (Greenwire, April 8, 2020).
The federal agency says "more than 45 companies in the energy and transportation sectors and countless private landowners will provide habitat for the species."