Contact: Dane Huinker: DHuinker@WildlifeForever.org, October 6, 2022
White Bear Lake, MN – Wildlife Forever is proud to certify Fergus Falls, MN as the first Prairie City USA community in the country. Friday, September 30th, marked the occasion with a dedication ceremony at Spies Riverfront Park in downtown Fergus Falls. Mayor Ben Schierer received the recognition on behalf of the community's efforts to convert and restore 30 acres of prairie habitat within city limits.
Prairie City USA works to engage and certify communities for their model conservation program; restoring ecological function to the landscape and beautifying urban and rural cities. As a certified Prairie City, municipalities adopt and implement best practices to enhance pollinator habitat, carbon sequestration, erosion control, and water quality. Working to integrate native prairie and local ecotype landscapes, Prairie City certification starts with civic leadership and a commitment to conservation.
"I am thrilled that Fergus Falls is an official Prairie City USA community. Making the commitment to enhance our natural areas and investing in nature-based infrastructure will help our community thrive, creating a more sustainable place to live and work," said Mayor Ben Schierer.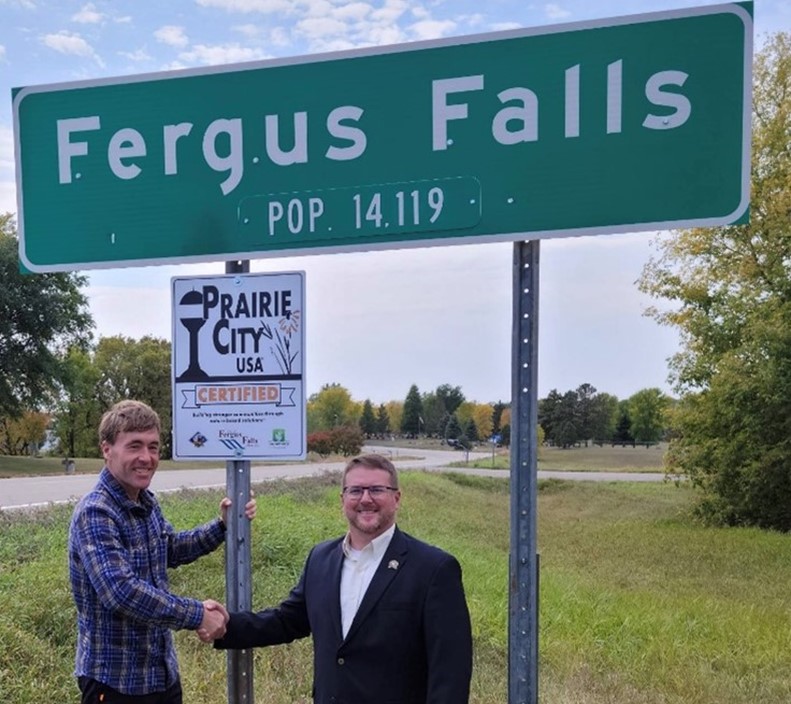 Through a 5-step application, communities can initiate the process toward certification which varies, based on an acreage commitment to convert green space to prairie and pollinator habitat. A long-term management plan is provided upon certification to aid in sustaining the quality of the restoration sites over time.
"Congratulations to the people of Fergus Falls and to the numerous partners that made this designation possible. Through civic leadership and restoration funds from the Outdoor Heritage Fund, Fergus Falls has created urban wildlife corridors and new opportunities for the community to expand prairie conservation," said Pat Conzemius, President and CEO of Wildlife Forever.
About Prairie City USA: The mission is to build stronger communities through integrated prairie habitats, conservation best practices, and civic leadership. Developed in partnership with the United Prairie Foundation, Prairie City USA engages local governments to adopt and integrate prairie restorations on underutilized green spaces and community areas that encourage public awareness and education.
About Wildlife Forever: Our mission is to conserve America's outdoor heritage through conservation education, preservation of habitat and management of fish and wildlife. Wildlife Forever is a 501c3 non-profit organization dedicated to investing resources on the ground. Recent audits reveal that 96 percent of every dollar supports our award-winning conservation programs. Become a member and learn more about the Art of Conservation® Fish Art Contest™ and Songbird Art Contest™, Clean Drain Dry Initiative™ and Prairie City USA® at www.WildlifeForever.org.
Building Stronger Communities Through Nature Based Solutions™
Minnesota, Prairie City, Press Releases, Wildlife Forever News