Sharpshooters help keep deer disease in check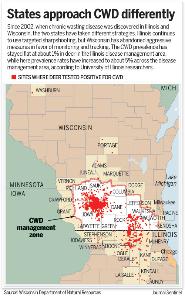 By Paul A. Smith of the Journal Sentinel
Nov. 6, 2013
Efforts in Illinois to control the prevalence of chronic wasting disease in wild deer have succeeded while rates of the disease have soared in Wisconsin, according to a study by veterinary researchers.
The difference: Targeted sharpshooting in Illinois areas with CWD-positive deer.
The tactic has been used by Illinois wildlife officials since 2002, when CWD was discovered in both Illinois and Wisconsin.
Since then, the CWD prevalence has stayed flat at about 1% in deer in the Illinois disease management area.
Deer in Wisconsin's CWD management area had a similar rate in the first few years after the disease was discovered, according to University of Illinois researchers Jan Novakofski and Michelle Green.
But when Wisconsin abandoned aggressive measures — including sharpshooting and longer hunting seasons — to control CWD, prevalence rates increased to about 5% across the disease management area.
The results are published in a paper titled, "The Importance of Localized Culling in Stabilizing Chronic Wasting Disease Prevalence in White-Tailed Deer Populations" in the Sept. 25 edition of Preventive Veterinary Medicine.
Novakofski, associate vice chancellor for research compliance and professor of animal science, said the study was undertaken to assess management of herd health.
"Our scientific question was: What's the best way to manage the disease?" Novakofski said.
The disease, an encephalopathy similar to mad cow disease, is caused by an abnormal prion. It can take years to develop but is always fatal. It was first discovered in captive mule deer in Wyoming in the 1960s.
The disease is found in deer, elk and moose. It has not been linked to human disease, but the Centers for Disease Control recommends not eating the meat from CWD-positive animals.
Interesting comparison
Since the disease was found in the same year in neighboring states, it set up an interesting comparison of management strategies. The results are very different.
The 2002 discovery of CWD in Wisconsin's wild deer herd was a signal event in the history of the state's outdoor culture.
Tom Heberlein, a University of Wisconsin sociologist, tabbed it "Fire in the Sistine Chapel."
Though wildlife diseases are extremely difficult to contain, the Wisconsin Department of Natural Resources set a goal of disease eradication. The agency employed an array of aggressive techniques to reduce deer numbers, including the use of sharpshooters and longer hunting seasons.
Though initial efforts helped lower deer numbers near the core disease area in Iowa and Dane counties, some hunters and landowners opposed the herd reduction measures.
Over the last decade, the DNR and Legislature have weakened herd control efforts. The Legislature outlawed Earn-A-Buck and early antlerless deer hunts.
The DNR shortened hunting seasons and stopped using sharpshooters. The kill of antlerless deer has declined substantially and the herd has increased in the CWD management zone.
The current Wisconsin CWD management strategy entails testing and tracking the disease.
"We're not doing any active management," said Tim Marien, Wisconsin DNR wildlife biologist and acting wildlife health specialist on CWD matters. "It's monitoring and surveillance."
The testing has shown CWD on the increase in Wisconsin in all age and both sex classes, according to the DNR.
Over the past 11 years in the core area, disease prevalence in adult males has risen from 8%-10% to more than 20%.
In adult females, it has increased from about 3%-4% to approximately 9%.
Among yearlings, CWD prevalence was about 2% in males in 2002 and is now about 6%, while in females it has changed from 2% in 2002 to about 5% in 2012.
The Wisconsin DNR job formerly known as CWD coordinator has been vacant for the last 12 months. It is expected to be filled in 2014, according to the agency.
Meanwhile, Illinois continued to use sharpshooters in specific areas, said Paul Shelton, forest wildlife manager for the Illinois Department of Natural Resources.
"It's not that we didn't have some opposition from hunters," Shelton said. "But in fact, sharpshooting at the hotspots has been shown to have the least amount of negative impact on hunters of any technique."
Since 2001, deer harvests by hunters have increased in all regions of Illinois, including the CWD management area. Hunter harvests declined in two of the 12 counties in which CWD has been found, according to the study. Sharpshooting has been used more aggressively to reduce the deer herds in those two counties.
Shelton said support is high to very high from hunters outside the Illinois CWD management area. Such hunters are keen to have the disease confined to the area in north central Illinois.
After the "corn jungle" comes down in fall, the Illinois Department of Natural Resources uses sharpshooters to cull deer in areas with CWD-positive animals. Most of the shooting is done in winter as the deer congregate in woodlots. Most of the herd reduction takes place on private land on which the state has permission.
Last year, sharpshooters in Illinois killed about 600 deer, Shelton said.
Novakofski said data provided by both states was analyzed. The researchers wanted to know: Did the control strategies keep CWD prevalence flat? Allow it to go up slowly? Or allow it to go up fast?
Though differences can be noted in geography, human development and land use in parts of the respective CWD management zones, similarities predominate.
After staying similar for the first few years, CWD prevalence rates increased sharply in Wisconsin. The most significant difference was clear, Novakofski said.
"Wisconsin made a management change," Novakofski said. "After that time, the strategy used in Wisconsin has resulted in increased and still increasing prevalence rates."
Disease spreads north
In 2011, the disease was found for the first time in northern Wisconsin. The DNR responded by increased testing near Shell Lake but did not enact special measures to reduce the local deer herd.
Though sharpshooting in Illinois has kept prevalence low and steady in the CWD management area, it hasn't prevented the disease from "sparking." Shelton said finding new positives outside the area was one of the frustrating realities of dealing with a wildlife disease.
"You can have a CWD-positive yearling male deer move 20 miles and then you've got a whole new area on your hands," he said.
Management efforts in both states have been affected by a decrease in federal funding in recent years. But Illinois officials have shown a greater financial commitment to CWD control.
Since federal funds dried up, Illinois has spent on average $1 million annually in state money to manage the disease, Shelton said.
Wisconsin spent $582,000 in 2012, Marien said, and will spend a similar amount this year.
The 2012 Wisconsin white-tailed deer trustee report urged a "more passive approach to CWD management." Though the recommendations of the report will likely not be implemented until 2014, Wisconsin wildlife managers appear set to continue a monitor-only approach to CWD management.
Shelton said Illinois plans to continue its use of sharpshooting.
"This isn't a case where you can declare victory," Shelton said. "But we have areas where there are fewer CWD-positive animals today than there were 10 years ago. That's a good thing."
"And who knows what technology will bring in the way of new tools to fight this disease. Until then, it's our goal is to keep the disease confined to as few animals and in the smallest area possible."