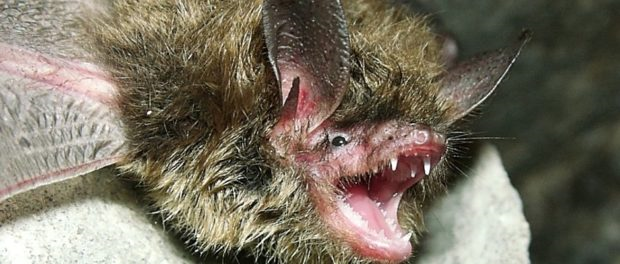 By Laura Bies Posted on February 13, 2020
The U.S. Fish and Wildlife Service must reconsider its decision to list the northern long-eared bat as threatened rather than endangered under the Endangered Species Act. ©USFWS
A federal judge last week ruled on a lawsuit over the U.S. Fish and Wildlife Service's 2015 decision to list the northern long-eared bat (Myotis septentrionalis) as threatened rather than endangered under the Endangered Species Act. In 2016, Defenders of Wildlife and the Center for Biological Diversity, along with several other environmental organizations, sued the Service in two separate cases — later consolidated into and ruled on as one — arguing that the northern-long eared bat needs full protection under the ESA as an endangered species.
Northern long-eared bats range across the eastern and north-central United States, but white-nose syndrome, a deadly fungal disease, has spread to about 60% of that range. It has caused about a 96% decline of northern long-eared bats in the northeastern portion of its range as of its 2015 listing decision, according to the U.S. Fish and Wildlife Service. In 2013, the Service proposed listing the northern long-eared bat as endangered, based on the threat to the species posed by white-nose syndrome. When the proposal was finalized in 2015, the bat was instead listed as threatened.
As part of the listing, the Service issued a 4(d) rule that permitted incidental take of the species in states where white-nose syndrome was not present. In last week's ruling, the federal judge determined that the Service's decision to list the bat as threatened rather than endangered was not supported by the best available scientific data and that the agency made procedural errors in finalizing the listing.
The Service argued that the bats population was stable in areas not affected by white-nose syndrome, so a threatened status was sufficient. The court determined that the agency failed to consider that the bat was not equally distributed across its range and that some areas of the range were in imminent danger of the disease spreading to them. In addition, plaintiffs argued that the Service made the decision to list the bat as threatened before the public comment was closed.
The Service declined to respond to this charge, leading the court to accept the plaintiffs' argument. The court also determined that the agency erred in allowing incidental take through the 4(d) rule, which permitted activities that affected habitat. The agency argued that since the species was primarily threatened by white-nose syndrome, protecting habitat in areas without the disease was unnecessary. But the court ruled that, along with white-nose syndrome, habitat destruction and other threats could cumulatively affect the bats and must be considered.
The judge did not vacate the 2015 listing decision but asked the agency to reconsider it. The threatened designation and 4(d) rule will remain in place until a new rule is published; however, the new rule must not include the current 4(d) rule.