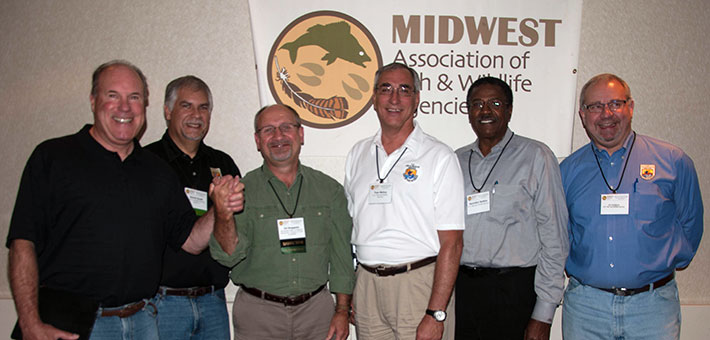 MAFWA President Ed Boggess along with Service Midwest Regional Director Tom Melius; Deputy Regional Director Charlie Wooley, Assistant Director for Wildlife and Sport Fish Restoration Hannibal Bolton, Migratory Birds and State Programs Assistant Regional Director Dave Scott, and Midwest Wildlife and Sport Fish Restoration Program Chief Jim Hodgson at the 82nd Annual MAFWA Director's Meeting in Duluth, Minnesota. Photo courtesy of MAFWA.
July 6, 2015
The U.S. Fish and Wildlife Service's Midwest Region was honored last week with the Midwest Association of Fish and Wildlife Agencies (MAFWA) President's Award, its Annual Midwest Director's Meeting in Duluth, Minn. Regional Director Tom Melius was in attendance and received the award on behalf of the Service. This is the first time the Service has received this distinguished award.
"Recently the Service's Midwest Region has focused on improving working relationships with state fish and wildlife agencies and has significantly enhanced support for the states' programs and interests," said Ed Boggess, MAFWA President. "These improved relationships and sensitivities to the authorities, roles, and needs of state fish and wildlife agencies are recognized and very much appreciated."
In the president's remarks honoring the Service and our regional staff, he highlighted recent increased leadership and peer-to-peer efforts, in such challenging areas as conserving the northern long-eared bat and efforts to control the spread of Asian carp.
"I am honored to accept this award on behalf of our entire team of Midwest Region employees who work closely with our state partners on a daily basis," said Tom Melius, Midwest Regional Director. "We greatly appreciate this recognition from MAFWA and our state partners and look forward to continued collaboration in conserving our fish and wildlife resources."
The Service is committed to working closely with our State, Tribal and NGO partners as we work to accomplish our mission to conserve, protect and enhance fish, wildlife, plants and their habitats for the continuing benefit of the American people.