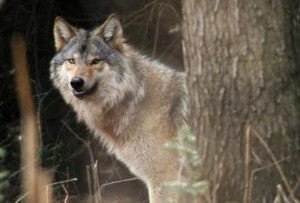 2:55 PM, Nov 9, 2012   |  
FILE – In this undated photo provided by Jayne Belsky via the Wisconsin Department of Natural Resources, is a gray wolf in a wooded area near Wisconsin Dells, Wis. Federal officials removed Great Lakes wolves from the endangered species list in January. Given free rein to manage the species, Wisconsin and Minnesota lawmakers pushed aside the concerns of some environmentalists and established their first seasons allowing hunters to bait, shoot and trap wolves. (AP Photo/Jayne Belsky via the Wisconsin Department of Natural Resources, File) / AP
 Written by Associated Press
LANSING — A state Senate committee has approved a bill that would designate the gray wolf as a game species in Michigan, a first step toward allowing the predator to be hunted.
The measure cleared the Natural Resources, Environment and Great Lakes committee on Thursday. It now goes to the full Senate, which is in recess until Nov. 27.
If it's enacted, state Natural Resources Commission will decide whether to establish wolf hunting seasons.
Wolves have rebounded from near extinction in Michigan's Upper Peninsula, where the population is estimated at nearly 700. Wisconsin and Minnesota began allowing wolf hunts this fall.
Supporters of hunting say the wolf population is too big and poses danger to people and other animals. Opponents say wolves are still recovering and it's too soon for a hunt.